Invitations to Swing into Auction 2015 went home with your youngest child last week. If you did not receive your invitation,
and we will be sure to get one to you!
The event will be held Saturday, January 31, 2015
Royal Sonesta Hotel,
2222 West Loop South.
To purchase a ticket, please visit the website above.
The deadline is January 18
th
.
Purchasing a ticket online automatically registers you for Auction night bidding. No further action is needed!
If you underwrote at any level, you MUST register with BidPal in order to bid at Auction.
If you cannot attend Auction, but still want to bid on items, register with BidPal to bid remotely.
Please see BidPal registration instructions below.
______________________________________________________
If you would like to stay the night at The Royal Sonesta Hotel, you can make a reservation now by clicking
1-800-766-3782, and entering group code 0131STVINC.
Discounted rooms are available at a rate of $109 per night (excluding tax) for Auction night.
Purchase your tickets and Pre-Register:
http://bidpal.net/svdpauction2015
All bidding will be done electronically this year!
Please bring your smartphone charged and ready to go Auction night.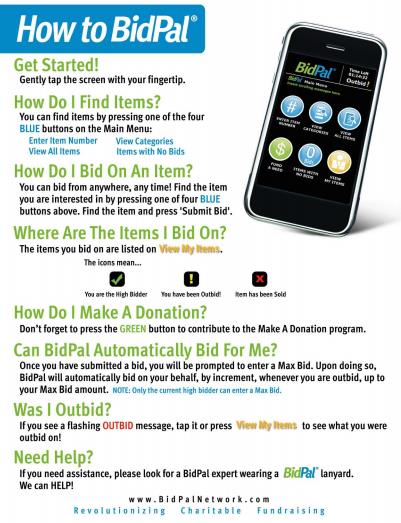 HOW IT WORKS:
Online bidding for Auction items will begin Saturday, January 31st, 2015 at 6:30 p.m., and will continue until bidding is closed.
You MUST register with BidPal to participate in electronic bidding and you are encouraged to pre-register before the night of the event.
Go online to our SVdP Swing into Auction 2015 website http://bidpal.net/svdpauction2015.
Click "Register" in the upper right corner of the webpage to safely enter your credit card information.
Browse items, place bids, and even set max bids on Auction items.
You will receive an email if you have been outbid and may then choose to increase your bid.
You may use your computer, smartphone, or wireless device from anywhere to bid.
Not able to attend the Auction & Gala? Plan to participate through remote online bidding!
Happy Biddi
ng!
Still have questions?
Please email either Maggie Garza:
maggieygarza@yahoo.com
, or Ana Patrick:
anapatrick@mac.com
We highly encourage all attendees to register before the night of the event!